I am UNIQUE, INIQUE
Thread Lifting
We improve drooping without incision using lifting thread.
line UniqueINIQUE
Non-Incisional Threat Lifting for
Correcting the Face Line
We select a suitable lifting thread according to the drooping condition and position of the skin.
In addition to the primary lifting effect, the lifting thread is dissolved to lead collagen regeneration and add volume to the face.
01

Quick recovery
with a simple procedure

02

No scarring with minimal incision

03

Using customized lifting threads according to symptoms
Thread Lifting Procedure Area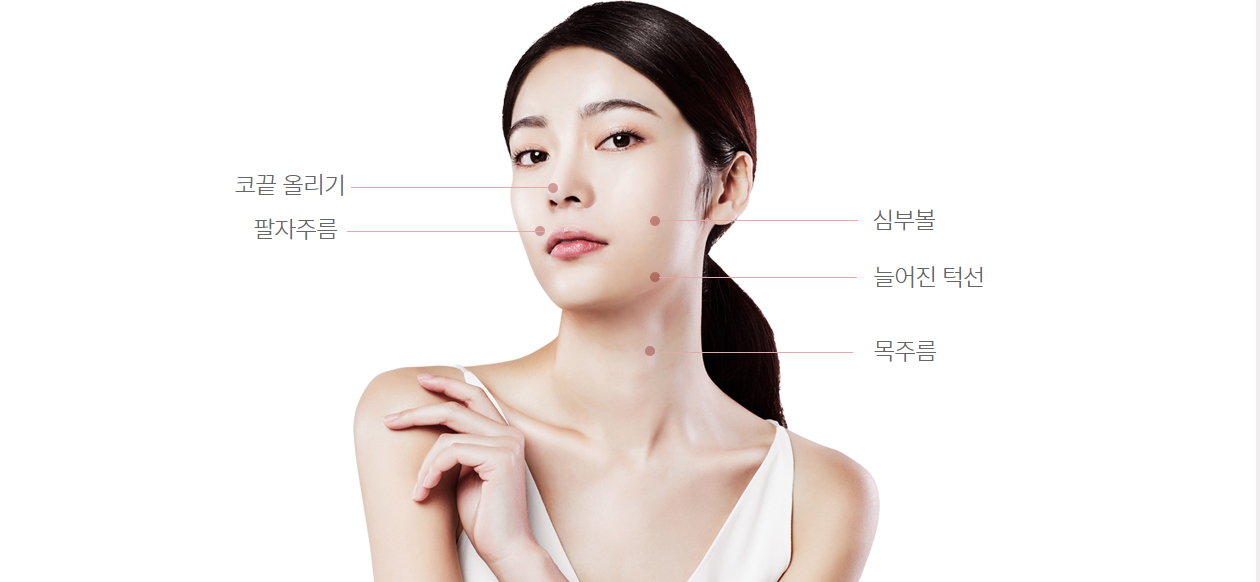 Natural-looking, beautiful
INIQUE Non-Incisional Thread Lifting
Aesthetic sense, pursuing natural beauty

We pursue natural beauty that
looks like you were born with it

Operating Surgeon in Let Me In Thailand Seasons 1-3

Representative plastic surgery rehabilitation program "Let Me In Thailand" medical team of doctors

Extensive operation experience and proven expertise

INIQUE's techniques are proven with journals and patents
INIQUE Thread Lifting
INIQUE Thread Lifting 01
Why do you need thread lifting?
CHECK LIST
If you lost overall firmness of the face
If you want to restore elasticity without surgery
If you want to refine the contour of the face
If you want to improve sagging skin caused by bimaxillary surgery, fat graft, or petit procedures
INIQUE Thread Lifting 02
Type of Lifting Threads
Component
Type

Elasticum

Diamond, Blue Rose

Tornado

Ultra V

Component
Special band
PDO
PDO
PDO
Anesthesia method
Monitored anesthesia
Monitored anesthesia
Local anesthesia
Local anesthesia
Procedure time
30 minutes
30 minutes
10 minutes
10 minutes
Lasting period
1-4 years
1 year
6 months
6 months
Features

New elastic band material composed of silicon and polyester
Most flexible lifting thread in existence
Acts like a ligament in the body
No sensation of foreign substance after operation Long lasting

Third-generation PDO
360-degree cog in a rose thorn shape
Manufactured in molding by compressing bumps instead of trimming thread
Quick recovery with non-incisional procedure

Second-generation PDO
Tornado-type thread without bumps Improved tightening effect compared to Ultra V
Used with Diamond, Elasticum, etc. because the lifting effect is insufficient

First-generation PDO
Insufficient lifting effect
Effective for shaping the chin line
Used with Diamond, Elasticum, etc.
What procedures can be performed together
for better results?
What procedures can be performed together for better results?
Category
Shurink Lifting
Thread Lifting
Incisional Lifting
SMAS layer
Non-surgical lifting for shrinking the dermal layer and leading collagen regeneration using ultrasonic waves
Non-incisional lifting for pulling the SMAS layer and leading collagen regeneration with lifting thread
Lifting method for incising and detaching the skin to pull the
Recovery time
Able to engage in activities on the same day
Able to engage in activities on the same day
(slight discomfort)
7 days
Lasting period
3 months
6 months - 1 year
Approx. 10 years
Features
Improves firmness and volume of the skin.
Improves the chin line and wrinkles including the smile line, etc. and smooths out the contour of the face.
Improves fine wrinkles and deep wrinkles and corrects the contour of the face. It is also effective for middle-aged patients.
LINE UNIQUE INIQUE
Focuses on natural-looking beauty
INIQUE PLASTIC SURGERY
Extensive cases and expertise from first surgery to revision surgery

Operating Surgeon on "Let Me In Thailand" Seasons 1-3

Received award from the Ministry of Health and Welfare Officially
recognized expertise through textbooks and thesis presentations

Patented in the Korean Intellectual Property Office for unique facial contouring surgery techniques